The number of suicides in the U.S. Army rose by 80 percent after the United States launched the war on Iraq, according to an analysis published in the British journal Injury Prevention by American military doctors.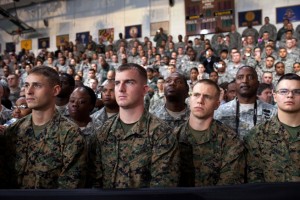 The number of Army suicides began to trend upwards in following the invasion of Iraq in 2004 after 25 years of being well below civilian rates of suicide. By 2008, 140 Army personnel committed suicide, 80 percent higher than in 2004.
"This increase, unprecedented in over 30 years of U.S. Army records, suggests that 30 percent of suicides that occurred in 2008 may be associated with post-2003 events following the major commitment of troops to Iraq, in addition to the ongoing operations in Afghanistan," says the study.
The rise paralleled an increase in counseling and hospitalisation for mental health problems. From 2003, these rates nearly doubled. "The 2008 rate indicates that more than one-fifth of all active-duty soldiers had an ambulatory [walk-in] visit for a mental health disorder, implying a prevalent public health problem," the study concludes.
The study does not include suicides from other branches of the U.S. military and does not include figures through key decisions of the Obama administration, like the 2009 surge in Afghanistan. But in 2010, the U.S. Army announced that it faced a record number of suicides among Army personnel, with 160 active-duty soldiers taking their own lives.