President Obama and Israeli Prime Minister Benjamin Netanyahu finally held their much vaunted meeting today, with President Obama vowing that the US "will always have Israel's back" regardless of the circumstances.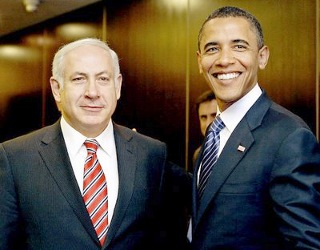 Netanyahu appeared to agree with the US president's assessment that the US does indeed have his back no matter what, though he added that Israel's government would always be the "master of its fate" on the decision of war.
The meeting apparently resolved very little, however, as Netanyahu was said to have informed Obama that he "hasn't decided yet" whether or not to attack Iran, while reportedly pushing Obama to make ever more hawkish statements about the possibility of war.
The meeting comes just a day after Obama's AIPAC speech, at which he declared Israel's "right" to launch an attack on Iran at any time, and Netanyahu praised the statement.