President Obama's high profile AIPAC speech devoted much time to discussing a possible US or Israeli attack on Iran. It was loudly cheered by Israeli Prime Minister Benjamin Netanyahu, who said he appreciated President Obama's defense of Israel's "right" to launch a unilateral attack on Iran in "self defense."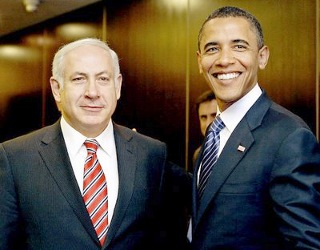 Netanyahu is preparing to leave from his state visit to Canada to visit the United States, with a scheduled meeting with Obama on Monday. The meeting is expected to focus on the timing of a potential attack.
And though Netanyahu seemed quite pleased with the comments, Israel's Foreign Minister Avigdor Lieberman warned that his opinion didn't mean much, saying that as "an independent and sovereign state," Israel would make its own decision on whether or not to start a war.
Lieberman and Netanyahu have regularly butted heads on foreign affairs, with the prime minister operating virtually an alternate foreign ministry out of his office in response to Lieberman's hostility. Rhetoric aside, both seem strongly in favor of attacking Iran.