Though the Free Syrian Army (FSA) claimed yesterday that fighting would be seriously curbed nationwide because of a shortage of ammunition, rebel fighters in the far south of Syria have been fighting with regime forces along the border with Jordan.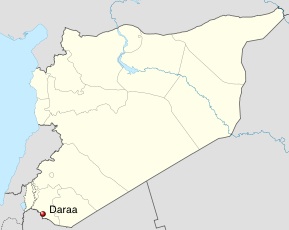 Opposition figures claimed that two members of the Syrian forces had been killed early in the fighting, but no updates on the toll were reported throughout the day, so that figure may be higher.
The fighting focused on the Daraa Province, the site of the initial pro-democracy protests in Syria last March. Those protests, which started small, eventually swelled into a nationwide movement, though they have since been  largely supplanted by military defectors looking to conquer the nation by force.
The proximity of the fighting to the Jordanian border suggests that the fighters in that region may have found a source of ammunition inside the neighboring country, though the exact nature of it is entirely unclear at this point.