Today's announcement by an Egyptian court that the trial of some 43 NGO workers, including 16 Americans, was being delayed until late April, has fueled speculation that the US is close to a deal with the nation's military junta to secure their release.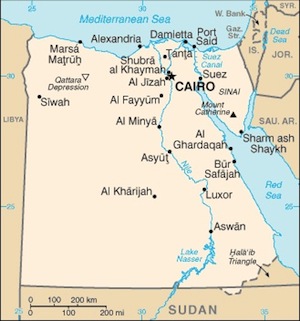 US officials have been quoted by Reuters confirming "intense discussions" that could resolve the situation in a matter of days, and Secretary of State Hillary Clinton said that the situation remains "fluid."
The primary charges against the workers are for operating with political parties who did not have licenses to receive foreign aid. The US workers were employed by the International Republican Institute and the National Democratic Institute, proxy organizations for the US Republican and Democratic Parties that receive large amounts of US funding.
The workers have defended their actions, saying that the groups tried to get licenses but there is no mechanism through which to do so since the ouster of US-backed dictator Hosni Mubarak. The prosecutor in the case said the raids of the organizations were launched because the groups had ties with the CIA.
So far this is an unverified allegation but wouldn't exactly be shocking, given the CIA's long history of meddling in internal politics across the world. WikiLeaks cables, after all, showed the CIA had even infiltrated the libertarian-leaning Free Democratic Party (FDP) in Germany, at a time when US officials were fretting that their inclusion in a German coalition government because of their interest in personal freedom and limited government. It's hard to imagine that Egypt was any less infiltrated.
The US has threatened to revoke military aid to Egypt over the arrests, but with polls showing strong majorities of the population against accepting US aid in the first place, this seems a mostly idle threat.