At least 50 civilians were reported killed today in fighting between the Al-Zwia and Tabu tribes in the southern border area near Chad and Sudan. The two tribes have a long history of animosity, and have been trading attacks over the past 24 hours.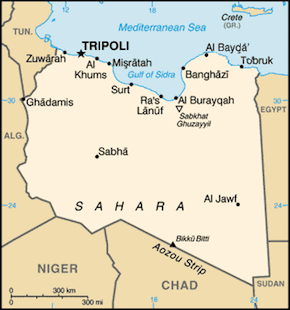 The Zwia are accusing the Tabu of recruiting mercenary fighters from Chad, while the Tabu say that the Zwia have recruited a number of smaller tribes into a coalition against them. The tit-for-tat attacks, which centered on the town of Kufra, have displaced hundreds of families.
The National Transitional Council (NTC) leader Mustafa Abdul-Jalil claimed that the fighting was the result of Gadhafi regime loyalists who had come to Kufra to sew sedition. The claim was not backed by any actual evidence.
Instead, a militia leader familiar with the situation claims that the fighting is a result of the two competing over smuggling routes into the neighboring countries. The NTC had originally appointed a Tabu leader to fight smuggling, but he targeted Zwia smugglers, sparking a major battle.