In a move that will further strain ties between the Obama Administration and the Egyptian military junta, the Egyptian government has announced that charges will be filed against 44 NGO workers, 19 of them Americans.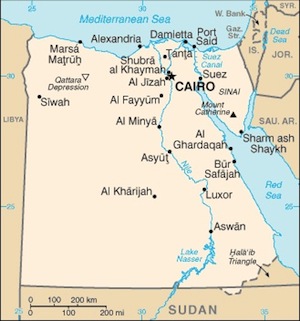 The charges stem from December raids against the NGOs, which were funded by the US government to help pro-US factions prepare for the nation's first free elections. The junta argued that the groups were never licensed by former dictator Hosni Mubarak, and were therefore not legally allowed to receive foreign funds.
The targeted Americans chiefly worked for the International Republican Institute (IRI) and the National Democratic Institute (NDI), groups heavily funded by the US government and run by Republican and Democratic Party leaders, respectively. The case has received attention due to heavy political interest in the matter, and because the head of the IRI's Egypt office is Sam LaHood, the son of US Transportation Secretary Ray LaHood.
LaHood is among the 19 Americans facing charges, all of them hiding in the US Embassy in Cairo where LaHood says everyone is "expecting the worst." The IRI issued a statement insisting that Egypt's court system is "not legitimate."  The State Department has condemned the inquiry repeatedly but has not officially said whether it intends to give the Americans permanent asylum in the embassy.
US officials, including IRI chairman Sen. John McCain (R – AZ), have warned that the Egyptian military junta could lose its billions of dollars in annual US aid over these actions. The junta has insisted that it would allow the judiciary to set the process.
Last 5 posts by Jason Ditz