Senate Armed Services Committee Chair Carl Levin (D – MI) and International Republican Institute (IRI) chief Sen. John McCain (R – AZ) both warn today that the Senate will strongly consider revoking military aid to Egypt's ruling junta over the late December raid against US-funded NGOs.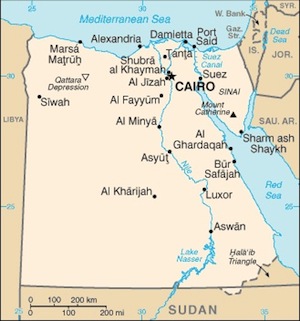 Since the raid, the junta has barred a handful of the NGOs' American employees from leaving the country, including local IRI head Sam LaHood, the son of US Transportation Secretary Ray LaHood. Some of the employees have hidden inside the US Embassy in Cairo fearing arrest.
The junta argues that the NGOs were never formally licensed by former US-backed dictator Hosni Mubarak, and were therefore illegal. The NGOs, primarily the IRI and its Democratic Party counterpart, the National Democratic Institute (NDI), are heavily funded by the US government and sought to help parties seen as favorable to the US prepare for the elections.
Sens. Levin and McCain both intend to meet with an incoming junta delegation next week to press them on the matter. McCain has warned in previous comments that restricting foreign funded groups from participating in the election threatened "US national interests."
An interesting aspect of this battle is that the junta has been a traditionally enormous recipient of US funding as well, and its first response was to hire a major DC lobbyist to defend the raids. The lobbyists now say they have dumped the junta fearing a backlash from Congress, though the junta maintains it dumped them to "save money."