At least two people were reported killed today when members of a militia from the town of Gharyan, just south of Tripoli, fought with members of a militia from the neighboring town of al-Asabia.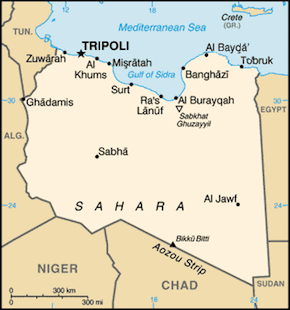 The fight began when the Gharyan forces marched on the neighboring town to arrest "suspects" they thought might've had Gadhafi ties, and the neighboring town's forces refused to hand them over. The two sides settled the dispute with a gunbattle involving rocket launchers.
The two slain people were both fighters, according to the hospital, and seven other combatants were wounded. One civilian was also reported wounded when a stray rocket hit his home.
It is just the latest in a growing number of battles between rival militia, and whether fighting over turf, historical rivalries, or simply mistaken identity the battles show no sign of letting up.