At least 35 people were killed today and one badly wounded in a Turkish military strike against northern Iraq, near the border with the Sirnak Province of Turkey. All the slain were civilians, reportedly involved in smuggling diesel fuel across the border.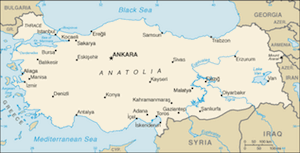 Turkish officials say the attack was launched after drones spotted the group and assumed them to be militants from the Kurdistan Workers Party (PKK). Turkish officials insist they had "no way of knowing" that the people they were killing weren't militants.
The killings sparked major protests in Istanbul as well as a number of Kurdish cities in Turkey. Police arrested several of the protesters and used tear gas to disperse the crowds. Turkish MP Nazmi Gur said most of the slain were teenagers who smuggle fuel into Turkey for a living, and that officials should have known smugglers were also operating in the area.
A spokesman for Prime Minister Erdogan said that the authorities were still trying to identify all of the slain, and said that they appear to have been Turkish citizens from the Kurdish border region. They added that the families will be compensated for the killings.