At least 44 people were killed and over 100 injured today when a pair of suicide car bombers detonated in front of the headquarters of two of the top spy agencies in the country. State TV was quick to blame al-Qaeda for the attacks.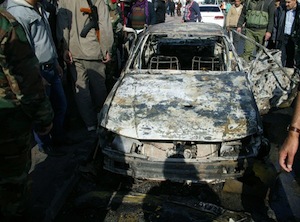 The attacks targeted the General Intelligence Agency headquarters as well as the local branch of the military intelligence agency in Damascus. In addition to killing employees a number of bystanders were also reported slain.
The attacks come after a particularly violent series of moves by the regime against military defectors and public protesters. It also comes just hours after the advance team of Arab League monitors arrived to confirm the situation on the ground.
The bombings were the first of their kind since pro-democracy rallies began in Syria early this year, and are the latest indication that the nation is rapidly falling into a full-scale civil war. So far no group has claimed credit for the bombing, and it would be unusual for any of the existing opposition factions to launch this sort of attack.