The first 100 troops from the tiny nation of Djibouti arrived today in the Somali city of Mogadishu, determined to bolster the African Union force aiming to prop up the self-proclaimed government.
The 100 troops were termed an "advance party" by an official AU statement, saying that another 800 Djibouti troops were expected "in the next week or so." The nation pledged its support in late September.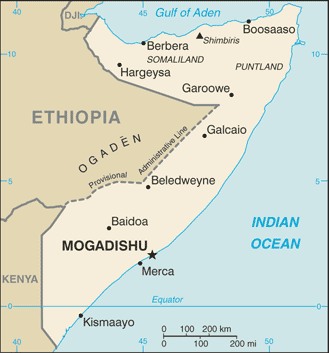 The contingent amounts to about 8 percent of the entire Djibouti military, and when fully deployed will bring the African Union force to almost 10,000. More troops are also expected from Sierra Leone, and Kenya has also said they will be part of the force starting next year.
Djibouti has played a role in the past in hosting conferences on the ongoing war in Somalia. The nation's support of the AU force could be risky, however, as increasingly the nations involved in invading the nation have found themselves facing retaliatory bombings.