In a press conference earlier today, Afghanistan Interior Ministry spokesman Sediq Sediqqi says that the government is on track to impose President Karzai's ordered ban on private security companies by March 20.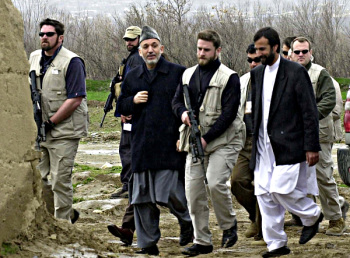 Karzai initially ordered the ban in August of 2010, reasoning that it would help the military recruit by putting so many people out of work. At the time the ban was a total one.
But this didn't last long, as within two months he had already agreed to allow NATO to keep their massive number of contractors, and a few months later agreed to let them double the number of contractors working for NATO.
The ban was also delayed several times, and at one point the Interior Ministry even reported that it was being scrapped entirely. Sediqqi, however, denied reports that another 18 month delay was in the offing.