According to a statement issued by the White House today, President Obama finally called Pakistan, nine days after the fact, to express "regret" over the US attack on a pair of Pakistani military bases and the killings of 24 Pakistani soldiers.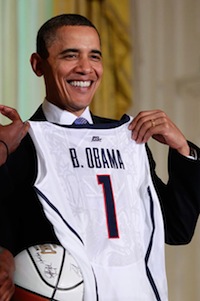 The phone call came three days after the White House announced that it would not call Pakistan and would not offer any apology for killing the Pakistani soldiers, saying that it wanted to wait until the investigation was completed.
Obama reportedly told Pakistani President Asif Ali Zardari that the multi-hour bombing of the bases was "not deliberate" and that the killings were a "tragic loss." Though Obama reportedly promised a "full investigation" nowhere did the word "sorry" or "apologize" appear in the comments.
The change to at least making a  phone call was likely aimed at satisfying State Department officials, who were reportedly concerned that Obama's lack of comment was making the situation worse. Yet the vague nature of the comments, as well as the fact that they came a week and a half after the incident, make it unlikely they will do much to solve a major diplomatic crisis.