Another largely uneventful GOP foreign policy debate came and went tonight on CNN, with the various candidates staking out non-specific hawkish positions and only occasionally delving into specific, disastrous policies.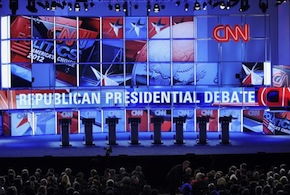 The debate started with discussion of the PATRIOT Act, with most candidates agreeing that it needed to be dramatically expanded to ensure that no one accused of terror has even a modicum of rights. Rep. Ron Paul (R – TX) clashed with former Rep. Newt Gingrich (R – GA), who declared during the segment that "all of us will be in danger for the rest of our lives!"
On the question of civil liberties Rep. Michelle Bachmann (R – MN) deferred to her own understanding of the constitution, which is that the president has enormous power to act as he pleases as "commander in chief," while former Senator Rick Santorum (R – PA) mentioned that Abraham Lincoln really "ran over civil rights" during the Civil War, suggesting that it was an example to be followed. Herman Cain would only say that he was convinced the terrorists "want to kill us all."
On the question of military spending most of the candidates agreed that the current budget, which dwarfs any military budget in the history of mankind, was woefully undersized, with Governor Rick Perry (TX) chiding President Obama for not spending enough. The exceptions to this were Rep. Paul and former Governor Jon Huntsman (UT), who insisted that all departments needed to be on the table in the case of spending cuts.
Beyond that, the final segments were mostly about which nations individual candidates hoped to threaten or portray as a grave threat, with Rep. Bachmann declaring Pakistan "more than an existential threat," Gingrich vowing regime change in Iran, and some debate about how massive a foreign force to leave occupying Afghanistan.
Perhaps the most memorable proposals, though neither was explicitly about military policy, came in a contentious segment on immigration. During the segment Gov. Perry declared that "within 12 months of inauguration that border (with Mexico) will be shut down." Gingrich suggested that the US use something like "Selective Service Committees" to decide which people should be deported from the country.