On Sunday night the southern Somali town of Afgoye, densely populated with refugees since the famine broke out, was pounded with a number of missile strikes, sending civilians scrambling and fueling anger at the international community. Kenya, which is at present invading the region, expressed surprise at the strike, and al-Shabaab militants reported they came not from Kenyan forces, but from a warship off the coast.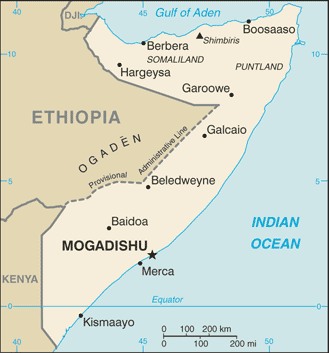 But whose ship was it? We still don't know for sure and the two nations who have warships in the region and had been firing missiles against targets in southern Somalia recent, the United States and France, are both denying involvement.
Indeed, they're not just denying involvement, but both US and French spokesmen suggested that the other country was probably responsible for the attack, which didn't actually appear to have killed anybody but caused considerable panic.
The US said it was likely France, citing French warships near the site of the attack. France, for its part, insisted that there were no warships in the area and the strike "appeared to be a US operation." Kenya insisted that it wasn't them (and indeed the Kenyan military isn't believed to have the sort of precision needed to launch such strikes), but declined to speculate who it might be.