Questions about the Department of Homeland Security's (DHS's) potential involvement in the violent crackdowns on Occupy Wall Street protests nationwide continue to grow today, with new reports that not only were they sighted at several of the crackdowns but in one case photographic evidence of DHS forces arresting a photographer at a Portland rally.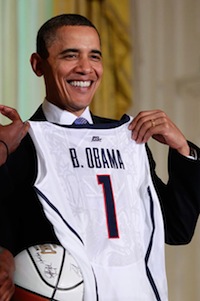 The photograph apparently is authentic, as the Federal Protective Service (FPS), a wing of the DHS, issued a statement in the wake of the Portland crackdown confirming that they were "working with the Portland Police Bureau to enforce the prohibition of overnight encampments."
That crackdown was comparatively minor compared to the increasing level of violence used in recent days, an apparent result of what Oakland Mayor Jean Quan called a "conference call" with other mayors.
There has been speculation and even one unconfirmed report that the "conference call" was organized by the DHS, as were the crackdowns in their wake. So far, however, there has been no formal confirmation that this was the case.
The FPS is supposed to be responsible for the physical security of certain federal buildings, and does so mostly with a massive team of 15,000 security contractors. They have recently hyped a program of "proactive" moves against potential future threats against facilities, which may suggest why they are being used against domestic unrest, even if on a small scale basis.