NATO officials today announced that they launched an air strike against "insurgents" in the eastern Nangarhar Province of Afghanistan, killing at least 27 of them in an early morning attack.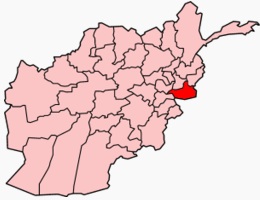 The Taliban has yet to give its version of the incident, but NATO says the insurgents attacked an "international military patrol" and were targeted by the air strike "immediately." Officials say there were no civilian casualties in the attack.
The attack is the first major incident in Nangarhar in awhile, and came in the wake of a NATO force launching a raid targeting "a Taliban facilitator." The Pentagon reported a large number of "suspects" had been detained in the operation on Tuesday.
The air strike occurred in the Nazyan District, in the province's far south, not far from the Pakistan border. The Pakistani side of the border is in the Khyber District, which has also been under attack from Pakistani forces in recent weeks.