November 16 was American Censorship Day, a day when a number of major websites sought to raise awareness of the Stop Online Piracy Act (SOPA), as Congress held hearings on the controversial bill.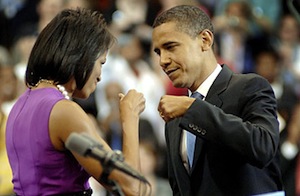 The bill is expected to secure considerable support in Congress and is being championed by a number of Hollywood interest groups while facing massive opposition from the Internet community, and companies like Google and Wikipedia in particular.
It would mandate the creation of a blacklist of Domain Names that would have to be blocked for all US users, a system similar to the one China has enacted to silence online dissent.
In practice, the Obama Administration is already doing this on a smaller scale, with the Department of Homeland Security seizing a large number of domain names during last year's holiday shopping season, ostensibly because they offered "counterfeit goods." They also captured a popular Spanish soccer website's ".org" domain name in February – after the Spanish government had already ruled that the site could not be legally shut down.
But the Obama seizures have been entirely extra-legal, and have worked primarily because they targeted sites too small to defend themselves from a summary shut-down. The SOPA attempts to formalize the policy and allow the Justice Department to seize the domain name of any website, no matter how big, on the basis of the mere allegation of copyright violations.