A blast tore through the Bid Ganeh base on the outskirts of Tehran Saturday, killing at least 17 people and wounding a number of others. Among the slain was Major General Hasan Moghaddam, a top commander of Iran's artillery and missile unit.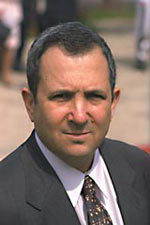 Iran's military termed the blast an accident, saying that it was caused when ammunition being moved by troops caught fire. The ensuing explosion caused a major shockwave, damaging a number of nearby buildings.
Israeli Defense Minister Ehud Barak, however, thought the explosion was great news, saying he didn't know the extent of the damage caused by the blast but said "it would be desirable if they multiply."
Israel, of course, has been threatening to attack Iran for decades. Even so, it is extremely unusual for a high profile official to publicly celebrate the deaths of foreign soldiers in an accidental blast, let alone to root for more in the future.