According to Rep. Michael McCaul (R – TX), Pakistani President Asif Ali Zardari promised he and the rest of a Congressional delegation that he would do whatever was required to "eradicate" the entire Haqqani Network.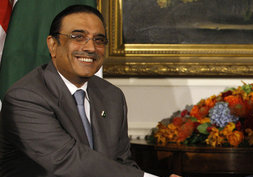 According to McCaul, he told Zardari his aid could be "significantly cut" over the Haqqani issue, but Zardari appeared more interested in securing additional trade agreements for his promise.
The Obama Administration has repeatedly accused the Zardari government of secretly operating the Haqqani Network as a wing of its military. At the same time, they concede that they don't really have any evidence to that effect.
The allegations were parroted as unquestioned fact in a number of media reports, however, prompting hawks to begin calling for an invasion of Pakistan's tribal areas and a full halt to all foreign aid. Zardari's promise seems aimed at quieting those concerns but it is unclear if his weak government is even theoretically able to follow through.