Though Congressional hawks have united squarely against the notion of even broaching the subject of cutting military spending, Defense Secretary Leon Panetta today continued months of loudly condemning the notion, insisting it would "devastate" the military to have to live with less money.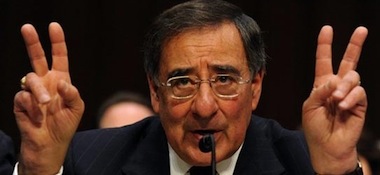 In his latest round of comments to the House Armed Services Committee, Panetta declined to offer specifics about what cuts would means in actual terms, but claimed it would make it "difficult" to keep troops occupying nations across the planet.
Beyond that, Panetta urged Congress to consider tax increases as an alternative, saying that they should work with the Pentagon on the budget and focus on "increases in revenue" and cuts to other programs before touching the massive military budget.
The latest round of comments, though largely not different from his near weekly diatribes about military spending, come as the committee is poised to deliver its recommendation to the "supercommittee" in the next few days, though neither Armed Services Committee nor supercommittee appears to have much political interest in cutting defense spending.