In his first European speech since taking the position, Defense Secretary Leon Panetta today angrily demanded that all of NATO's member nations in Europe dramatically increase their military spending.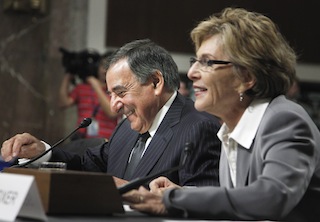 Panetta said the need for massive increases in military spending were one of the "lessons of Libya" and that NATO needed more military force to continue with its assorted wars, present and future.
He added that the US involvement in the several months of bombing Libya was instrumental and that the European member nations would "have had a very difficult time getting off the ground" with such an attack.
Faced with spiraling budget deficits, a number of European nations have decreased their military spending in recent months, though the US continues to insist upon having the largest budget in the history of mankind every year.