A Bahraini princess has been accused of being involved in the torture of pro-democracy protesters detained in the country's recent crackdown on peaceful assembly.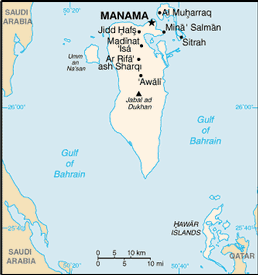 A number of the medical professionals sentenced last week to lengthy jail time for treating injured protesters as patients have alleged that the princess, Sheikha Noora bint Ibrahim al-Khalifa, beat them with sticks and a rubber hose, and gave electric shocks to the face with a cable.
The jailing of nurses and doctors, who claim they were tortured and forced to sign false confessions, has garnered international condemnation of the Bahraini monarchy, although not of its supporter and enabler, the United States.
One victim, 26 year old Nada Dhaif, alleged the princess had abused her during interrogations in March. Dhaif claimed: "She slapped me, beat me and called me a Shia pig. She put a cable in my ears and gave me electric shocks." Male guards were also involved in the torture, apparently following orders from the princess.
In August, thousands of state employees were fired from their jobs for taking part in protests. Fatima Haji was one of them and now claims that while she was detained Ms. Khalifa searched through her BlackBerry and found an e-mail sent to Human Rights Watch about her suspension from work. "She shouted, 'How dare you destroy the image of my country?' Then she gave me electric shocks to my face," claimed Haji, who briefly lost her sight after repeated electric shocks.
She was also sexually assaulted by other guards. In fact, all the female doctors and nurses that were detained say they were threatened with rape by male guards during their interrogation.
These types of allegations against the Bahraini government are not new. Numerous detailed reports, along with State Department diplomatic cables released by WikiLeaks, have evidenced widespread torture and abuse at the hands of the Khalifa regime. Despite the ongoing brutality, the Obama administration has repeatedly reaffirmed US support for the regime.
A United Nations commission is investigating alleged human rights abuses in Bahrain and will issue a final report at the end of the month.