Speaking to the United Nations General Assembly today, Israeli Prime Minister Benjamin Netanyahu loudly condemned the notion of an independent Palestinian state being recognized by the international body, saying that the Palestinians would have to reach a final peace deal with Israel, something which isn't even being discussed by the two sides, before independence could even be considered.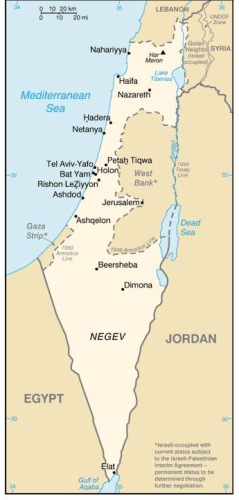 As usual this included a number of demands from Netanyahu that the Palestinians would have to accept as a condition for ending the occupation, including recognizing Israel as "the Jewish state."
The Palestinian Authority submitted its proposal for recognition to the United Nations Security Council today, just over a year after the last direct talks with the Israeli government, and are believed to have a strong majority in the general assembly, as well as a likely majority in the security council. President Obama has vowed to veto Palestinian independence on Israel's behalf.
Perhaps the most unusual comment from Netanyahu, however, was that Israel would never accept an independent state in Gaza, saying that Israel would only accept an independent Palestine within a portion of the West Bank. Though Netanyahu's Likud Party were loudly in opposition to withdrawing settlers from the tiny Gaza Strip, it is unclear what Israel plans to do with the strip in the event the PA ever got an independent state in the small portion of the West Bank which doesn't contain settlements.