In comments designed to placate growing outrage at the levels of molestation at the nation's airports, Department of Homeland Security chief Janet Napolitano has announced a new "streamlining" of TSA policies that will mean children will be groped less often.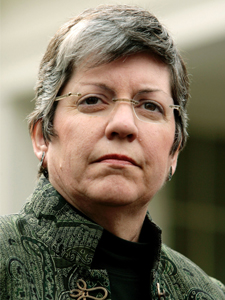 The TSA "enhanced pat-downs" of travelers have been a serious scandal for the past year, but officials have largely ignored public outcry over it, while also announcing that the full details of their policy and whether or not it is effective will both be kept strictly secret.
Officials were also quick to reassure Americans that "fewer" gropings of innocent pre-teens would not mean "no" gropings, adding that children will still be subject to "random" molestations by TSA officials, and that the policy of "fewer" pat-downs could be reversed at any time, for any reason.
TSA officials have often come under fire for "pat-downs" on infants, but other travelers have insisted that arbitrary abuse of TSA authority makes them feel a bit more confident, so long as the victim isn't someone they personally know.