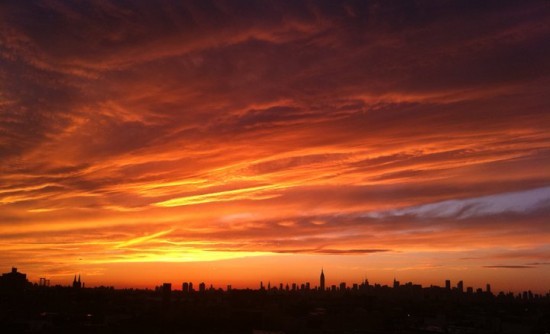 As the clock ticks closer to the tenth anniversary of the Sept. 11, 2001 attacks on New York and the Pentagon, the hysteria meter rises as well. But there are mixed signals from officials eager not to overplay what may be a nonevent.
The New York Police Dept., a militarized force larger than many nations, is buzzing the city's skies with helicopters and randomly stopping cars on its bridges. Offices above the Lincoln Tunnel, which connects New York with Jersey City, are considering staying closed Monday in the shadow of the "credible but unspecific" threat allegedly passed to US officials via an informant in the region of Afghanistan or Pakistan, according to one news report. Another report says the plot was discovered in an intercepted al-Qaeda communication.
Top officials including Secretary of State Clinton and VP Joe Biden are doing the media rounds hyping the threat, but the New York Times quotes an anonymous official emitting a verbal shrug. "It's 9/11, baby," the official told the Times. "We have to have something to get spun up about." Another nameless official told the Times the warning, which has authorities on alert for two men of "middle-eastern descent," doesn't seem to hold water. "This could all be one big fabrication… but no one wants to take any chances."
Homeland Security officials have noted "lots of chatter" on "jihadi websites about an impending attack, but nothing credible enough to issue a threat advisory. "Lots of chatter" doesn't elicit lots of confidence that the spy centers monitoring millions of communications can efficiently gather intelligence.
Concern about another attack this weekend surfaced months ago, partly due to the heightened awareness of the possibility of an attack because of the rather arbitrary importance people place on anniversaries, and partly due to unspecified reports that evidence seized in the raid on Osama bin Laden's compound contained ideas about a tenth-anniversary attack.
The mayor of New York, Michael Bloomberg, seemed nonchalant about the warning, himself taking the subway to work on Friday and telling people to continue to go about their business. Many other officials — including normally over-the-top Rep. Peter King — said people should be aware, but not alter their plans. Washington, DC, mayor Vincent Gray also announced hightened security measures in the district, mostly consisting of more police patrols.
The NYPD has also practiced what they call "surge" maneuvers, which see police from many precincts converge on a trouble spot. It's not clear how this will help in the aftermath of a catastrophic attack. In addition, many thousands of officers will be patrolling New York, especially the Financial District, the city's train stations, and the waters surrounding the island of Manhattan.
The suspects are thought to be US citizens. This is unlikely to protect them in the event they are caught by law enforcement, as the Obama Administration has claimed the right to order anyone, including Americans, to be extrajudicially executed.