The usual fighting on the ground continued apace in the southern Yemeni province of Abyan, with 8 soldiers and 17 militants reportedly killed in today's fighting. The Yemeni government has been trying to reoccupy the province since it was lost in late May.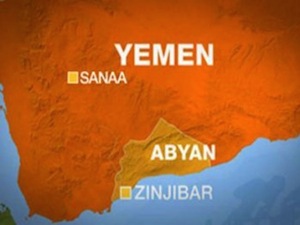 Increasingly, however, the ground warfare is taking a back seat to air strikes. The Yemeni government has been pounding the area with its warplanes, and US drones are increasingly active, killing at least 10 people today in several strikes.
All 10 of the slain were termed "al-Qaeda militants" by the Yemeni military, which is what they've called virtually everybody killed in the province. A group calling itself Ansar al-Sharia is in control of the provincial capital.
In addition to the slain, the US attacks wounded dozens of others. The targets included an abandoned hotel and a school near the city of Jaar, which was the site of a Yemeni government mosque bombing earlier this week.