The United Nations role as "peacekeeper" took another ugly hit today when a leaked State Department cable revealed that UN troops from Benin were caught trading food for sex with underage girls in the Ivory Coast.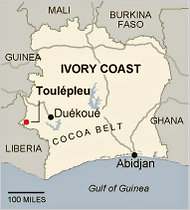 The 2010 cable revealed that troops stationed in the town of Toulepleu, one of the wartorn nation's most wartorn towns, had ongoing sex-for-food relationships with numerous girls, and some girls were also trading sex for shelter. The group Save the Children UK was involved in uncovering the abuse.
The UN confirmed the report and said that 16 Beninese soldiers were kicked out of the country and barred from serving in future UN operations after a yearlong investigation. Of the 16, however, 10 were commanders, and the UN blamed the commanders for not making it clear that the soldiers weren't supposed to sexually abuse the girls in the town.
This is the latest in a long line of UN sex scandals, it isn't even the first time UN troops were caught doing this sort of thing in the Ivory Coast. In 2007 Moroccan UN troops were expelled from the city of Bouake in northern Ivory Coast after the UN received similar complaints.