Rebel forces and armed civilians are rounding up thousands of black Libyans and migrants from sub-Sahara Africa, imprisoning them in makeshift jails across the capital and accusing them of being mercenaries for Moammar Gadhafi.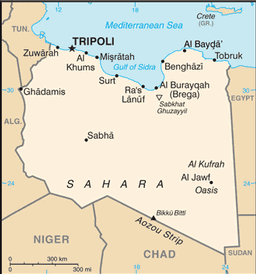 As the rebels and their Transitional National Council (TNC) struggle to maintain credibility in a post-Gadhafi Libya, they have been targeting black Africans for weeks now. The United Nations warned about mass arrests, beatings, and revenge-killings against the suspected mercenaries, and the African Union this week refused to recognize the TNC as the legitimate governing authority in Libya on the grounds that their treatment of the black Africans was a human rights violation.
Virtually all of the detainees say they are innocent migrant workers, and in the vast majority of cases there has been no evidence to suggest otherwise. Aladdin Mabrouk, a spokesman for Tripoli's military council, said no one knows how many people have been detained in the city, but he guessed more than 5,000.
Despite promises from the TNC that human rights will be observed and respected, Associated Press reporters saw rebel forces in the Khallat al-Firjan neighborhood in south Tripoli punching a dozen black men before determining they were innocent migrant workers and releasing them.
At the Gate of the Sea sports club, a soccer stadium where about 200 detainees — all black — have been confined, detainees crowded against the high walls to avoid the hot sun in the roofless stadium.
One prisoner, Ahmed Ali, had burns across his face, neck, and arm. He said he had come from Chad two years ago to work. "When the rebels entered Tripoli, some guys came and burned down my house," he said. "They brought me here," he said, adding that he'd received no medical care in the six days since his arrest.
"The danger is that there is no oversight by any authorities, and the people who are carrying out the arrests — more like abductions — are not trained to respect human rights," said Diana Eltahawy of Amnesty International. "They are people who carry a lot of anger against people they believe committed atrocities."