In comments made in a letter to the US State Department, Sen. Chuck Schumer (D – NY) demanded that the US withhold all foreign aid for the Libyan rebel council as well as freezing all of the Gadhafi assets they planned to make available.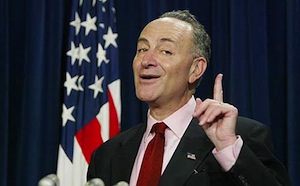 Schumer insisted the move was necessary because the "new Libyan government continues to shield his convicted terrorist from justice," referring to Abdulbaset Al-Megrahi, the convicted Lockerbie Bomber who is said to be in failing health and near death. Megrahi has denied any role in the bombing.
The rebel movement announced over the weekend that they won't allow any Libyan citizens to be deported, and that this included the comatose Megrahi. The comment sparked anger from a number of US officials.
But the Obama Administration insists that won't allow the aid to be tied to Megrahi, insisting that the goal right now is to pump up the rebels-turned-government with international funds.