At least 29 people were killed today, including MP Khalid al-Fahdawi, and 38 others were wounded when a suicide bomber attacked Umm al-Qura Mosque in the Iraqi capital of Baghdad today.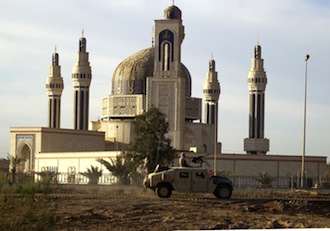 The mosque, just 10 years old, is the largest Sunni mosque in the capital and its control since the US occupation began has been seriously contested. The leader of the current group in control, the Sunni Endowment, reportedly was inside the mosque at the time of the attack.
So far no group has claimed for the attack, and it is unclear if it was carried out by a Shi'ite militia or a rival Sunni faction. Blame immediately fell on al-Qaeda, but with violence in Iraq rising all month, there are plenty of potential suspects to go around.
August has been the latest of several bloody months in Iraq, with attacks centering around Ramadan commemorations. This included a serious of strikes two weeks ago, which killed at least 74 people in a single day.