In comments reported by NBC News, unnamed US intelligence officials say that Libyan dictator Moammar Gadhafi is preparing to flee the country, and that he and his family could flee to Tunisia within the "next few days."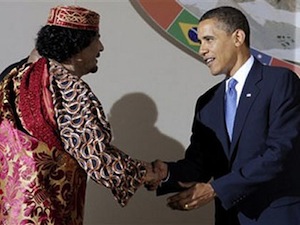 The prediction comes after repeated claims from US and NATO officials that the air strikes were dramatically weakening the regime's military and that he would soon find himself being forced out of office from within.
Of course, Gadhafi has been reported to be on the way out several times in the past, and was even reported to be on a plane to exile in Venezuela in February. Whether the rumors prove true this time or not remains to be seen.
And while there have been indications within the regime a few times that Gadhafi was willing to step down, a lot of it will likely depend on whether he can avoid war crimes charges or demands from the rebels. The rebel government in Benghazi has repeatedly suggested they would be less than eager to cut a deal with the dictator, but privately indications have emerged lately of secret talks between the two sides.