President Obama and Secretary of State Clinton today called for Syria's President Bashar al-Assad to step down after months of bloody crackdowns on peaceful protesters that have killed as many as 2,000 people. Clinton also announced even harsher sanctions on Syria.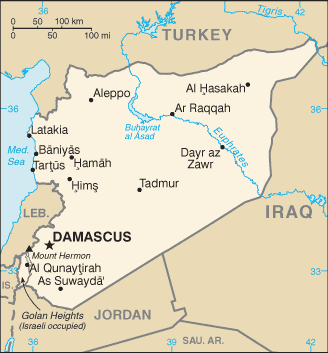 Many other countries joined the US in condemnation of the Assad regime and removed their ambassadors from Syria. The UN Security Council had finally condemned the crackdown about two weeks ago, after a massacre in the city of Hama.
Clinton also said that the United States would heed Syrians' call to not "interfere" in the fight, the way it is doing in Libya.
The sanctions focus heavily on Syrian oil and financial sectors, and prohibit any American from doing any business at all in the country.
NBC cites Saudi Arabia's recent break with Assad as a big factor in the Obama administration's decision to ramp up the pressure on his regime. Turkey has been pressuring Assad, but Iran continues to back him, the news channel says.
The Assad regime is accused of many heinous crimes against humanity including the torture and murder of a 13-year-old boy, locking people alive in morgue refrigerators, and summary executions. The regime has also shelled cities and besieged gatherings with snipers, killing scores of peaceful protesters. In recent days, it has emerged hundreds have been herded into a soccer stadium in coastal Latakia as the regime bulldozes their "illegal" homes. Their fate remains unknown.