American officials don't often reference the CIA's pilotless bombing program in Afghanistan and Pakistan, save for the occasional joke. It took "salty" new Pentagon chief Leon Panetta to bring it up in defense of the strategy of tossing bombs at suspected enemies, responding to criticism from a former intelligence head.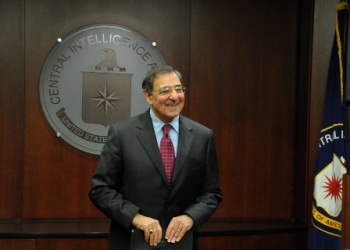 Retired Adm. Dennis Blair said in a recent NY Times piece that while he believes the drone program was useful in attacking al-Qaeda leaders, it is now counterproductive to continue to attack smaller fry, such as a recent hit on what's called the Haqqani Network in Waziristan that killed 25 alleged militants. Blair says that continuing drone strikes sows hatred of America.
But Panetta disagrees, claiming the strikes "defend our country" and "protect our national security," though many have called the drone attacks sloppy and self-perpetuating. The United States has denied it, but the strikes often kill civilians. Waziri campaigner Noor Behram said after on-the-ground research that "for every 10 to 15 people killed, maybe they get one militant," and a report recently revealed that 168 children have been killed by drones — just in Pakistan.
Panetta insists all those killed are terrorists, though zero of those killed are ever given trials.
"We are going after those who continue to plan to attack this country. They're terrorists. And the operations that we've conducted there have been very effective at undermining al-Qaeda and their ability to plan those kinds of attacks," Panetta told an audience at the National Defense University. He didn't go into detail as to why exactly plotters need a given space in Waziristan to plan an attack.
For its part, Pakistan publicly demands an end to US drone attacks on its territory and withdraw any troops. Washington responded with a cut in aid to Pakistan.