In a move that has Israeli officials scrambling, Sen. Patrick Leahy (D – VT) is pushing a bill that does the unthinkable, holds Israel to the same standard as other nations with respect to military aid.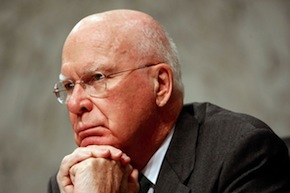 The bill would halt aid to certain Israeli "elite forces" units, including the Shayetet 13 unit involved in the attack on the Mavi Marmara aid ship, over growing evidence that the units are responsible for major human rights violations in the occupied territories.
The proposal had Israeli Defense Minister Ehud Barak holding secret meetings with Leahy earlier this month, during which Barak demanded that the bill be withdrawn from consideration. It does not appear that it was successful.
Barak's argument, apparently, was that Israel's military has "broader powers" than the judiciary within the US military and that Palestinians are supposed to approach the military advocate general with complaints of abuse.
Leahy's bill would oblige Israel to set up some system to ensure that its armed forces are not committing human rights violations. This restriction has been applied to Egypt, Pakistan and Jordan in US aid bills previously.