After a week of attacks on the city of Hama last week which left around 300 civilians killed, the Syrian government is turning its attention to the eastern city of Deir al-Zour, with tanks rolling into town in a pre-dawn raid and killing at least 59 people.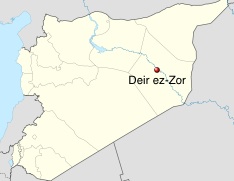 Deir al-Zour is one of the main cities in Syria's northeast, and like Hama its residents have been largely supportive of the pro-democracy protest movement, with the city virtually entirely out of the central government's control.
The Assad regime dismissed international criticism for the growing number of massacres of protesters, insisting that the protesters, whom they regularly refer to in their state media as "armed terrorist groups," are a threat to "homeland security."
Indeed, even as the killings continue, Syrian President Bashar Assad has been touting his clear "path to reform" for the country, while Foreign Minister Walid al-Muallem promised free and fair elections by year's end. Though Syria has officially unbanned opposition parties it seems unlikely that elections can be held so quickly, particularly with the Syrian military attacking towns.