Speaking today in Baghdad, outgoing Joint Chiefs of Staff Chairman Admiral Michael Mullen reiterated his warnings that the national debt is the "biggest threat we have to our national security" because all that debt is getting in the way of increasing military spending.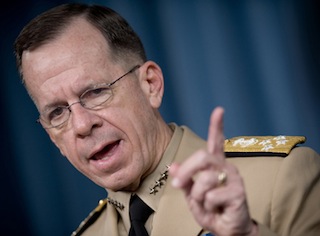 Mullen had previously made the comments in Detroit in August 2010, during which he complained that the yearly interest on the debt was quickly approaching the level of the military's own annual budget.
Mullen's speech once again appeared entirely disconnected from the reality that the soaring debt is in large measure the result of runaway military spending, with the underlying assumption that the economy's health is important for no other reason than to pay for more wars.
Today's comments were materially identical to the previous ones, except for a shout-out to the current debt deal, which didn't really address the growing debt. The same, of course, could be said of the military budget this year, which likewise did nothing to address its growth.