In what is said to be his last press briefing before his retirement, Joint Chiefs of Staff Chairman Admiral Michael Mullen confirmed that US-Pakistan military ties are at a "very difficult" crossroads.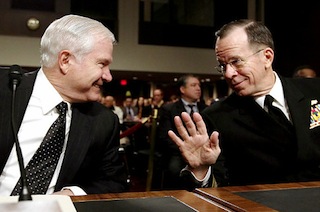 At the same time, Mullen insisted, he doesn't think "we are close to severing" the military-to-military ties between those two nations, even though the US has revoked hundreds of millions of dollars in funding to Pakistan's military.
Indeed that is just the latest in a string of moves that have raised tensions between the two militaries, including unilateral US and NATO raids from Afghanistan and repeated angry condemnations of the military and its spy agency by top US officials.
Pakistan, for its part, seems to be courting China as a replacement source of military aid, and with the US Congress looking to make future aid conditional on starting more costly wars in its tribal area, Pakistan may have decided the price of American aid is simply too high.