The latest indication yet that the Obama Administration's much vaunted "end" to the war in Iraq last year was entirely illusory, reports are pouring in from southern Iraq's Maysan Province that US warplanes launched a number of live ammunition attacks just north of Amara.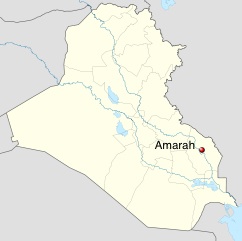 Iraqi security forces confirmed the attacks, and it appears that there was no coordination with the local authorities as to exactly what was being attacked or why. Though no casualties were reported, strikes just outside of a major city has the locals scared, and more than a little puzzled.
Iraqi officials speculated that the attacks were related to militant rocket strikes against an airport a few miles away earlier in the month, but since those attacks were two weeks ago the connection seems speculative, at best.
Rafi Abdul-Jabbar, a member of Iraqi parliament's foreign relations committee, condemned the attack and expressed surprise that the US would engage in hostilities without consulting the government. He said the attacks suggested "bad intentions" on the US side.