In comments today Pakistani Interior Minister Firdous Ashiq Awan condemned the claims by Admiral Michael Mullen that the Pakistani government had approved the killing of a journalist in late May.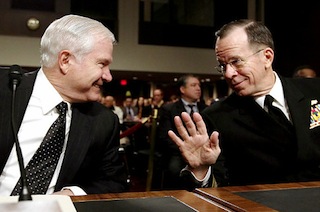 Awan termed the allegation "extremely irresponsible" and warned that it would do considerable damage to US-Pakistan ties, which are already under serious strain after repeated cross-border attacks and the US refusal to give up the Shamsi Air Base in Balochistan.
Mullen insisted that the government "sanctioned" Saleem Shahzad's killing, but then later defended the claim by saying "I have not seen anything to disabuse that the government knew about it." He did not name the Inter-Services Intelligence (ISI) as previous officials had.
Shahzad had been repeatedly threatened by the ISI for articles which they claimed harmed the "national interest" and went missing in late May, only to be found beaten to death in Islamabad. The ISI mocked the notion that they played a role in the killing.