Reports from on the ground in Syria indicate that the military forces have virtually withdrawn from Hama, a city of some 700,000 people, and have also left a number of smaller cities which have been the sites of major anti-regime protests.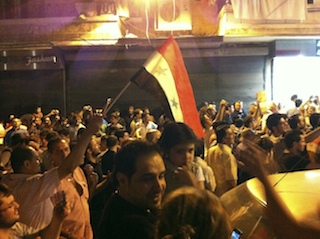 The move out of Hama, which has seen weeks of violent crackdowns, produced massive celebrations ahead of what is expected to be another Friday of major demonstrations nationwide. Residents see the "liberation" of the city from its virtually military siege as a major victory, and perhaps just the first of many.
Indeed, violence nationwide appears to be on the decline, after 11 protesters were killed on Wednesday reports only put the two-day toll including all of Thursday at 12. Though the military is still active, particularly in the north, it seems the Assad regime is increasingly conceding that the protest movement isn't going to be cowed by violence.
Which is an admission at dramatic odds with the regime's long-standing strategy. At the same time, some 1,500 protesters and hundreds of security forces have been slain in months of unrest, and every major crackdown only seems to fuel bigger protests, so it is an admission which is a long time coming.