Pakistan's Defense Minister Chaudhry Mukhtar has confirmed today that the Pakistani government has ordered the United States to leave the Shamsi Air Base, an air base in Balochistan from which the US had been launching drone strikes.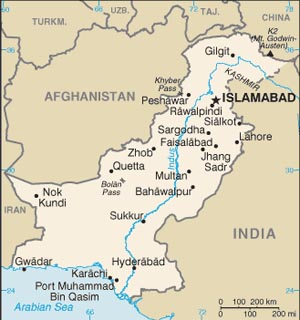 The move comes as repeated Pakistani demands for the US to stop launching unilateral drone attacks have fallen on deaf ears, and in the wake of repeated escalations of the strikes. The Shamsi Air Base has been under the operational control of the United Arab Emirates since the 1990s.
US officials have repeatedly downplayed the seriousness of losing Pakistani support for the drone strikes, saying they could just as easily launch the attacks on Pakistan's tribal areas from neighboring Afghanistan. Continuing to do so is likely to have serious consequences for US-Pakistan relations, however, which Mukhtar confirmed have grown steadily worse since the Abbotabad raid.
Still, Mukhtar defended the military and the Inter-Services Intelligence (ISI) agency, despite US allegations that the two are secretly in league with militant factions. He insisted that the Zardari government has full confidence in both,