Speaking today to the House Armed Services Committee, Admiral Michael Mullen warned that President Obama's announced drawdown from Afghanistan was "more risky" than he was prepared to accept and that the safer choice would always be to keep more troops in the nation.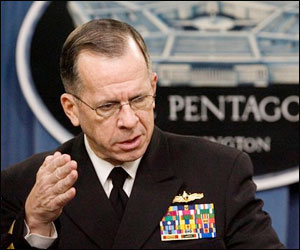 The announced withdrawal was actually comparatively minor, with the "33,000" troop figure mostly backloaded into the summer of 2012, and only a few thousand troops likely to leave immediately.
Still, Mullen insisted this was "more aggressive" than what he wanted, and that it is more than what he personally recommended. General David Petraeus also said his recommendation was much slower than what the president decided on. Secretary of State Hillary Clinton said the military commanders' comments were "understandable."
At the end of the day, however, the military leadership's battle to keep massive number of troops in the nation will continue, and the slow rate of the president's drawdown plan is going to provide plenty of opportunities for them to derail the process, either with claims of "progress" that must be defended or "setbacks" that must be reversed.