Speaking at a briefing for reporters, House Minority Whip Steny Hoyer (D – MD) warned Congress against defunding President Obama's war in Libya, saying it would "undermine" NATO and do serious damage to the alliance.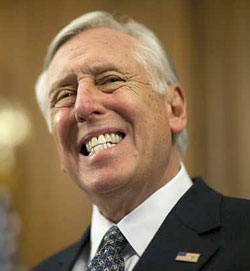 "It certainly would undermine the confidence of NATO in the ability of the president of the United States to participate in support of an effort that NATO had agreed to," Hoyer claimed. A growing number of Congressmen are calling for the defunding of the war on the grounds that President Obama never sought Congressional approval and now claims he doesn't need it.
But despite Hoyer's concern, NATO is far from united behind the war in Libya, and indeed the Obama Administration has been lashing other member nations, notably Germany and Poland, for refusing to take part.
That list is growing too, with Italy announcing today that they want an immediate end to the war and the introduction of humanitarian aid, after multiple NATO strikes killed dozens of civilians over the weekend.
The announcement of the US jumping ship on the war might indeed be disquieting for its enthusiastic supporters, which is down to only a handful of nations anything, but would likely also be a relief to the nations opposed to the conflict in the first place, and might convince NATO's leadership that something other than an open-ended bombing campaign is called for.