Senate Minority Leader Mitch McConnell (R – KY) today demanded that the Obama Administration immediately remove two Iraqis arrested in Kentucky as "suspected terrorists" from his home state, saying they should be immediately sent to Guantanamo Bay for military detention.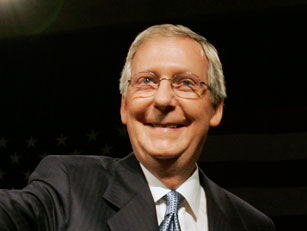 "Send them to Guantanamo where they belong," insisted McConnell, adding that the two suspects don't deserve civilian trials and should be sent to the notorious island prison for "the justice they deserve."
The two Iraqis were in the country legally, but are charged with "conspiring to send weapons and money to al-Qaeda in Iraq (AQI)." The attorney for one of them insisted that sending the two to Guantanamo simply wasn't an option since they enjoy the same rights as everyone in the nation legally.
The Justice Department insisted that the two underwent "extensive interrogation" after their detention and insisted the federal courts were perfectly capable of handling the cases in the normal manner. No trial dates were set for either man.