The Kurdistan Workers Party (PKK), a major separatist group in Turkey, has threatened a "great war" against Turkey today, in comments made by the group's jailed leader Abdullah Ocalan. He placed the deadline for talks at June 15, three days after the parliamentary elections.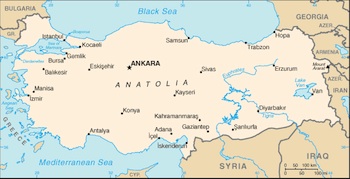 "Either after June 15 a meaningful negotiation begins, or a big war starts, doomsday comes," Ocalan was reported saying. Ocalan has been in prison since 1999 for his role in guerilla movements against Turkey.
Gunmen related to the PKK also claimed credit for the attack Wednesday on a police convoy escorting Prime Minister Tayyip Erdogan to an election rally. The prime minister had already left at the time of the attack.
The PKK had announced a ceasefire in August, 2010 and extended it in November. They announced they were ending the ceasefire at the end of February because there had been no progress on dialogue. The two sides have been fighting for over 30 years.