Popular outrage is swelling tonight against Pittsburgh Steelers running back Rashard Mendenhall following the star's tweets about the slaying of Osama bin Laden.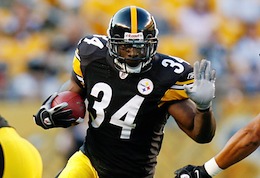 Mendenhall, whose previous tweets about the merits of the NFL Draft came under scrutiny, caused quite a stir when, citing the Christian principle "those who judge others, will also be judged themselves," wondered whether it was appropriate to "celebrate" the death of anyone.
Mendenhall's comments were quick to spawn a flurry of controversy and public condemnation. Steelers owner Art Rooney II termed Mendenhall's lack of joy incomprehensible in an official response, saying that the "entire Steelers' organization" is officially very proud of the killing.
Mendenhall's comment was a paraphrase of Matthew 7:1, a part of the biblical Sermon on the Mount termed the "discourse on judgementalism." Though the sermon is considered the canonical word of God throughout Christendom, there is a considerable debate among Christians today over whether there is an implied Osama Exemption within the sermon that permits Christians to celebrate his slaying.