Seven of Bahrain's Shi'ite protesters are to be sentenced to death, according to the nation's state media, for their role in the protests and the deaths of two policemen. The regime claimed the protesters "committed their crime for terrorist reasons."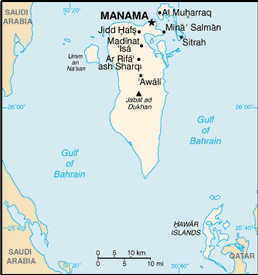 Several hundred thousand protesters took to the streets over the past few months to demand democratic reforms and to complain about sectarian discrimination. A strong majority of Bahrain's population is Shi'ite, but the ruling family is Sunni. The protests ended following the invasion of 1,500 GCC troops, led by Saudi Arabia, to help the government put down the demonstrations.
At least 13 protesters were slain during the rallies, and reports have a number of others dying in custody. The government also reported the deaths of four policemen. They did not indicate how the police were slain, but claimed to have "confessions" from the seven.
Bahrain had seldom used the death penalty over the past several years, and human rights groups had pushed them into a de facto moratorium. With the introduction of martial law to the tiny island nation, it seems this too may be changing.