With growing clashes reported between the supporters of Ivorian ruler Laurent Gbagbo and rival Alassane Ouattara growing, the French military 1,400 strong force has captured the Felix Houphouet-Boigny airport in the city of Abidjan.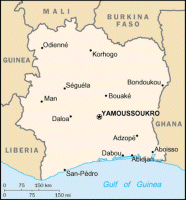 Officials with the French force operating in the Ivory Coast say that the capture of the airport was "so that foreigners wishing to leave Ivory Coast can do so." At the same time, they insisted they had made no decision to remove foreigners from the nation.
France's "Force Unicorn" has been operating in the nation since 2002, and destroyed the entire Ivorian Air Force in 2004. The force has come under criticism for its use of force against Ivorian protesters.
The move was not entirely unexpected, as French President Nicolas Sarkozy announced late last month that the Ivory Coast was "next" on his list of nations to start Libya-style wars against.